Homeowner Tips Series Part 5: Best Practices for Summer
Island Ductless -
June 13, 2022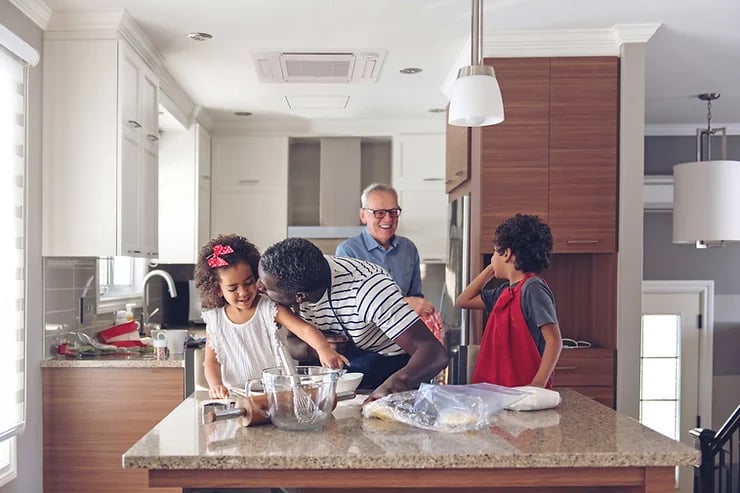 What actions can I take before initiating cooling mode on my ductless system?
When indoor temperatures begin to rise, first try the more energy efficient dehumidifying "Dry" (rain drop icon) mode, as well as "Fan Only" mode (available on some models). This can either reduce humidity or increase air flow and may be sufficient for indoor comfort. When it's undoubtedly time for "cooling mode," consider first opening windows and doors to create a cross-breeze. This will help accumulated heat blow out of the house and therefore lessen the work (and energy consumption) of your system. Additionally, remember that setting your ductless heat pump to a lower temperature than desired will not cool your home faster, it will simply waste energy and cause your system to work harder. Thermostats set between 72˚ – 74˚F provide a comfortable indoor climate for many people and one can always adjust from there if needed.
What energy saving actions can I take while my system is cooling?
Your windows are closed, and your thermostat is set to 74˚F, so what's next? You'll be happy to know that further action can still be taken to reduce your energy output. Despite your heat pump working hard to keep you comfortable, typical double pane windows still allow for roughly 75% of outside heat to transfer indoors. Easily combat this by drawing curtains and lowering blinds to block warmth from entering your home, therefore reducing your system's workload. Also, cooling a bedroom 30 minutes prior to hitting the pillow and continuing for just a few hours thereafter should be sufficient for a comfortable night's sleep. There is often no need to cool your room all night (or the rest of the house for that matter), thanks to our zoned systems.
How can I keep my system running at optimal performance?
Any appliance with a filter will operate most efficiently when it is clear of debris, and your ductless heat pump is no exception! Cleaning filters regularly is especially important when using air conditioning, as this simple act will enhance cooling performance, reduce energy consumption, improve air quality, and decrease running costs. If you'd rather not clean your own filters, IDHP offers a filter cleaning service that can be tailored to your specific needs. Completing annual maintenance will also enable your system to stay in paramount shape while keeping you comfortable indoors, all summer long.
What helpful insider tips can experts at IDHP recommend?
We're lucky to have Mitsubishi experts on our installation team, and during hot weather, they suggest setting the fan to the highest or next highest speed versus running it on auto speed. Doing this will reduce or eliminate condensation build up caused by cooling mode, regulate cold air more efficiently, lessen the work of your system, and decrease energy consumption. Additionally, using an inhibiter spray or wafer in the drain pan will discourage mold growth if the unit does in fact become damp with condensation.
Closing Thoughts
Following these simple steps should keep your household breezy throughout the hottest of summer months, and you can rest easy knowing you've done your part to reduce energy consumption and maintain the efficiency of your system. Please give us a call if you have any further questions: 360-321-4252.