We install a variety of Mitsubishi ductless heat pump systems, as well as Daikin, to fit any home's budget and style. Ask us about what models are available. Not all options pictured below.
12-year Extended Labor Warranty (Can be purchase up to 2 years from installation):
​
1 Outdoor Unit & 1 Indoor Unit…............ $395.00
1 Outdoor Unit & 2 Indoor Units.............. $495.00
1 Outdoor Unit & 3 Indoor Units.............. $595.00
1 Outdoor Unit & 4 Indoor Units.............. $695.00
1 Outdoor Unit & 5 Indoor Units.............. $795.00
Add-on Products
Air Scrubbers – air purification using ionization, plus UV Light
---
Mini Split PHI-Air Purification System PHI-CELL® technology is a proven technology with over 4 million units in use worldwide. The Mini Split PHI active air purification solution disperses airborne hydrogen peroxide throughout your living spaces, reducing viruses, bacteria, mold spores and odors at the source. As Mother Nature's chosen sanitizer, hydrogen peroxide is incredibly effective at reducing these contaminants in your home or office just as it is outside. Easily mounted onto air conditioning unit the RGF PHI Cell creates an Advanced Oxidation Process consisting of: Hydro-peroxides, super oxide ions and hydroxide ions. All are friendly oxidizers (no ozone) that revert back to oxygen and hydrogen after the oxidation of the pollutant.

Price: $589.00
Nu-Calgon iWave®-M Mini Flexible Air Cleaner is a flexible ion-generating bar that purifies the air, killing mold, bacteria and viruses ​in a ductless heat pump indoor unit coil and your living space. The ionization process also reduces allergens, smoke and static electricity, as well as controlling odors (cooking, pet, VOCs) and other particles (no more sunbeams) in the air without creating ozone or any harmful byproducts. The highly versatile iWave-M is low maintenance with no replacement parts.
​The RGF Clear Sky was developed to produce bi-polar ions, using separated quad ion emitters to reduce particulates, allergens, smoke, bacteria, viruses, mold and spores in the air. The unit attaches directly to the top of the mini-split unit using hook and loop fasteners. Its small size, easy installation, and low cost make it an ideal alternative to more expensive air purification systems. The RGFCLEAR SKY is a good air quality solution for the budget minded consumer."
---
KUMO Cloud – wireless comfort control with smartphone app
---
Manage your systems anytime anywhere
Wireless Comfort Control— Kumo Cloud provides remote and local control of a system through a mobile app. Kumo Cloud gives you the ability to effortlessly control your home's comfort. Whether you're away for the day or the month, whether you want to cool down or warm up, Kumo Cloud gives you control from any smartphone or tablet. One Wireless Interface is required for each indoor unit. Internet access is required for set up.


Price $295 (includes installation)
---
MHK2- Mitsubishi Wireless Remote Controller
---
Mitsubishi's MHK2 - Touch screen backlit Wifi remote controller.

The Mitsubishi MHK2 is the second revision of Mitsubishi's most popular wireless controller set. This controller offers in-depth 7-day scheduling and an easy to read, backlit display. The updated MHK2 can now be used in tandem with the KUMO Cloud wi-fi adapter, sold separately. No longer do you have to choose between internet and wireless control: you can use both! This wireless thermostat can be placed anywhere within 200 feet of the indoor unit and does not require line of sight. Features:
- Backlit display - Can sense temperature at indoor unit (default) or at controller - Fahrenheit °F / Celsius °C - No batteries required - Single zone compatible - Multi zone compatible Price $395 (includes installation)
---
Honeywell D6 Pro - Wirelessly Control your ductless heat pump with smartphone app
---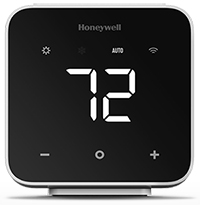 Wirelessly control your ductless heat pump
Your ductless heating and cooling system could be wirelessly controlled with a Honeywell D6 Pro Wi-Fi Ductless Controller. The D6 Pro also works like a thermostat. Set the mode to Cool, Heat, or Off. Set the temperature you want. And you're done—simple!


Price $195 (includes installation)
---
Nest Protect – Wireless Smoke & Carbon Monoxide Alarm with smartphone app
---
Connect to Wi-Fi, and it will send an alert to your phone if your Nest alarm goes off or the batteries run low. It tells you what and where. It speaks up to tell you if there's smoke or CO and where the problem is, so you know what to do.
---
Ring Video Doorbell – provides security and peace of mind, answer the door from anywhere
---
Provide security and peace of mind for all our customers, especially those who has packages delivered to their home or are frequently off-island.
Answer the door from anywhere—Get instant alerts when visitors press your doorbell or trigger the built-in motion sensors, and use the free Ring app to see, hear, and speak to guests from your smartphone, tablet, or PC.


Price $249 (includes installation)
---
Laundry Scrubber - uses activated oxygen instead of detergent to clean laundry
---
No need for detergent— using activated oxygen instead of detergent, keep potentially irritating chemicals away from you and your family's skin. This scrubber activates oxygen in the water to lift away dirt and odors making clothes softer. It also removes build-up on towels, linens, and your clothes which can become weighed down over time. This laundry scrubber lifts old detergents out of fibers, restoring their natural softness.

Save up to $500 per year on detergents and fabric softeners. Use cold water only for clothing and textiles, leaving them clean, soft, and fluffy.
Price: $795.00
---
Redlink Internet Gateway - control your RedLINK enabled thermostat via the internet
---
The RedLINK™ Internet Gateway provides remote access to RedLINK enabled thermostats through the internet and smart phones enabling control through the Honeywell Home app.
---
---