Mitsubishi: The Superior Ductless Heat Pump Brand
Island Ductless -
May 12, 2022
Why settle for less when you can breathe the very best?
You've done your research, fallen in love with heat pumps, and can't wait to go ductless! Yet with so many brands to choose from the options can feel overwhelming. Although Mitsubishi remains the number one bestselling brand in the United States, competing companies such as Daikin, Fujitsu, and even DIY choices have consumers drowning in options. We'll explore why we believe Mitsubishi systems are superior, include input from our experienced technicians, and hopefully point you in the right direction.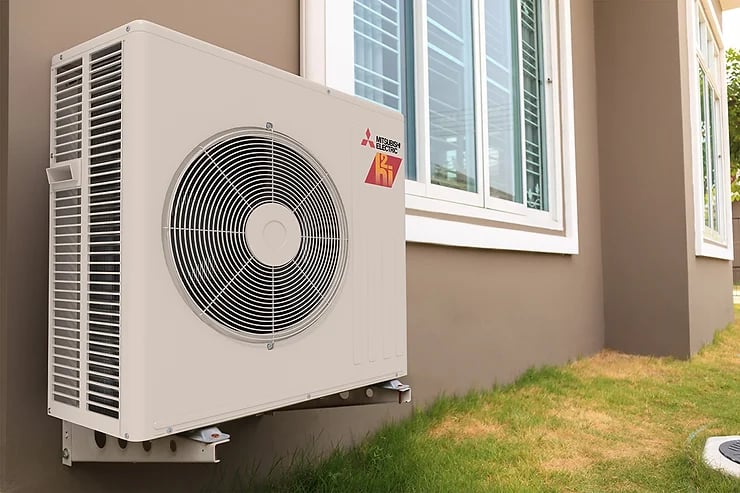 Efficiency to Price Ratio
Overall cost is an important consideration when shopping for ductless heat pumps, and system efficiency is part of that equation. Expect certain brands to have lower up-front costs, especially if you find a deal online or construct one yourself. However, beware that cheaper brands and DIY methods can be more costly in the long run due to lack of efficiency, expensive repairs, rare replacement parts, and overall low quality. Mitsubishi systems often require a higher up-front cost, yet their quality build, tech capabilities, 12-year warranty, reputation of longevity, and ability to lower your utility bills make them a leader with efficiency to cost ratio.
Noise Level
When it comes to heating and cooling systems, some amount of noise is to be expected whether you choose HVAC systems, electric wall heaters, ductless heat pumps, or other methods. Thankfully ductless heat pump technology has advanced such that most major brands like Daikin and Fujitsu are able to operate quietly. However, Mitsubishi's revolutionary technology keeps sound output as low as 20 decibels, which is less than a whisper, making them the most quiet brand of ductless heat pump on the market. When you're a light sleeper or have a wakeful infant, nearly silent systems are a must!
Air Quality
Washable air filters are included with ductless heat pump brands like Daikin, Fujitsu, and Mitsubishi, allowing for easy cleaning when needed.
IDHP technicians note that Daikin models have a finer mesh dust filter that may keep more build up off the coils, possibly having a slight edge on Mitsubishi in this area.
Maintenance and Repair
Considering maintenance and repair is a must. Will you have access to technicians and tech support who are familiar with your equipment? How efficient is the company at honoring their warranty? Will replacement parts be expensive or difficult to obtain? Considering these questions will help you avoid exorbitant maintenance and repair costs that off-brand or DIY systems often create. IDHP technicians report that Mitsubishi far surpasses Daikin, Fujitsu, and all other systems when it comes to troubleshooting ease, diagnostics, and parts replacement (saving customers cost and down time). Also, our local Mitsubishi supplier has a full staff of accessible field support technicians ready to assist customers versus the local Daikin supplier who has fewer employees who are reportedly difficult to reach.
In Closing
Although there are many options when it comes to ductless heat pumps, we firmly believe Mitsubishi is superior when it comes to efficiency, noise level, air quality, and ease of maintenance or repair. For these reasons, when we first dreamt of IDHP, we made the choice to go ductless and go Mitsubishi. From that moment on, we've never looked back or regretted those decisions. Contact us to learn more about our systems and how they can transform your indoor comfort.