The Look of a Ductless Mini-Split Head
Island Ductless -
November 18, 2019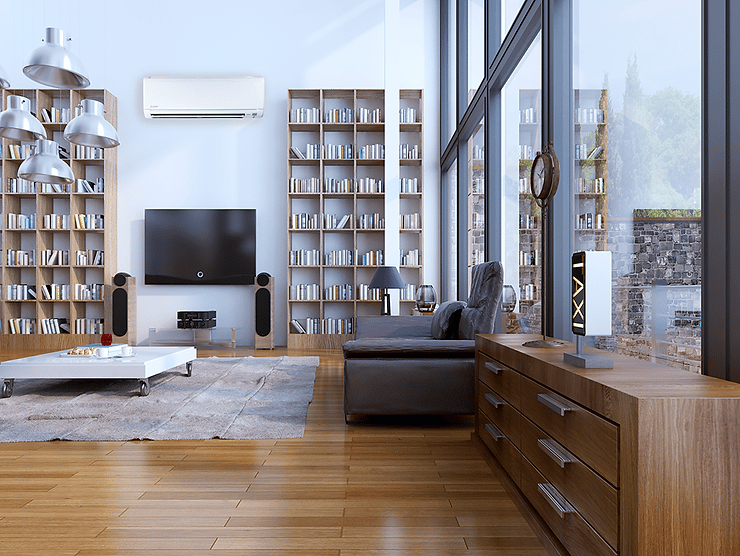 Unlike ducted systems, ductless mini-splits offer increased functionality and efficiency, using around 40‒60% less electricity than other conventional HVAC systems. However, these air source heat pumps extend at least seven inches from the wall and are about three feet wide, depending upon the model. A common concern that homeowners have is that the ductless mini-split head may not look as attractive as their ducted counterparts.
Here are a few tips and tricks that you can use to "conceal" a ductless mini-split head.
Find a Picture of Equal Proportion
You can place a picture below the ductless heat pump that complements both the wall and the heat pump's indoor unit. This makes a nice combination and makes a decorative statement of the wall unit.
Build a Bookshelf or Entertainment Unit Around It
One of the best ways to conceal a ductless mini-split would be to appear to "disguise" it. You can easily achieve this by placing it in a bookshelf or an entertainment unit. Use multiple shelves of the unit to add other decorations and elements and dedicate a shelf to the mini-split.
Paint Your Wall
You can trick the eye by painting the wall to match the color of your ductless heat pump. Creating this illusion will cause it to become almost unnoticeable! The best approach to this would be to find a mini-split in a color that you enjoy, and then paint your wall accordingly.
Customer Experience
We never like to downplay our customers' aesthetic sensibilities, and we want you to know that most customers are much more concerned about the look of the indoor units before the installation than after the installation. We just aren't used to seeing this type of equipment in our homes. Most users find they adjust to the look of these new units quickly, and they really enjoy the comfort a ductless system provides. It's precisely what homeowners need and right where they need it.
Sometimes, a mini-split unit doesn't even make much difference in your overall home decor, so it's up to you if you want to "hide" it or leave it as it is! Island Ductless Heat Pumps can help you find the ideal place for your mini-split so you can enjoy a quiet system that spreads heated or cooled air evenly throughout your home. Give us a call at (360) 321-4252 or visit our website to learn more about what we can offer.