What to Expect During Your Installation Process
Island Ductless -
August 15, 2022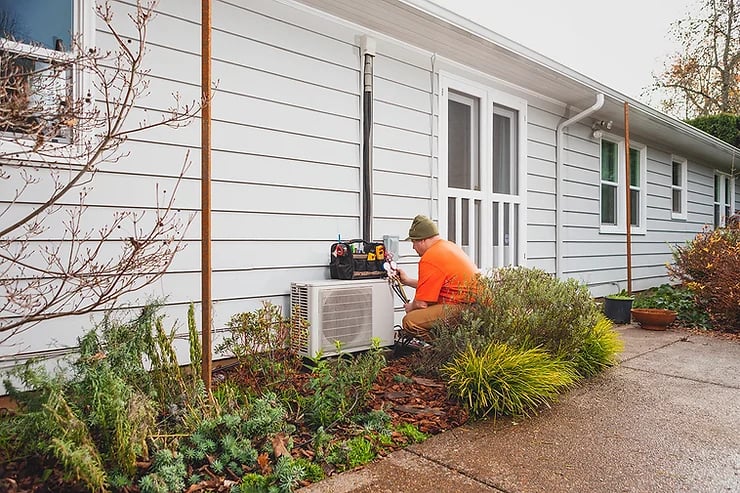 Going Ductless is as Simple as One, Two, Three!
The best things in life are worth waiting for. As proud Mitsubishi Diamond Contractors, our 3-phase best practices installation method ensures the top long-term outcome for your new system. You'll find other companies advertising installation in as little as one day, however shortening the process inhibits your system specifically in its second decade of use. Our longer process involves warming up your outdoor unit to protect it from excessive wear at initial startup (minimum 12 hours) and pressurizing your system overnight to check for leaks. Read on to explore each vital phase!
Phase One: Equipment Installation
Our crew will arrive with everything needed to place outdoor and indoor units, and we ask you to be present should questions arise. Depending upon your system size and installation complexity, this process typically takes 4‒8 hours yet on very rare occasions can take up to 3 days. During this process, technicians run exterior refrigerant lines (within line hides) from the outdoor unit to outside walls where indoor units are placed. A 3-inch hole is then drilled through the wall to accommodate copper lines, drain lines, and electrical communication wires to indoor units. Finally, the line hole is sealed to block elements from passing through.
Phase Two: Electrical Work
Phase two is typically less obtrusive and takes between 4‒8 hours, however issues such as panel replacement can take longer. As electrical contractors we schedule our own in house electricians for the electrical work. However, we sometimes need to utilize a subcontractor to supplement during busier seasons. During this phase clients may choose to be present so they can give input about where electrical lines are run on their home.The electrician will install a 240-volt circuit from the home's electrical panel to the newly installed outdoor unit, run a communication line between outdoor and indoor units, and install a 120-volt circuit to within 25 feet of the outdoor location if one isn't already present.
Phase Three: System Startup and Instruction 
This final visit typically takes less than two hours, yet sometimes requires two short separate same-day visits. During the pump down and startup of your new heating and cooling system, IDHP goes well beyond industry standards to get your system to the most efficient state possible. By attaching a suction/vacuum pump to a closed loop system, all air contaminants and moisture are evacuated from the system making it clean and ready for the refrigerant to be introduced into the system. We finalize the installation process with 15‒30 minutes of client training on how to use your new system and the setting up of any add-on device(s) if applicable. Process completed!
In Closing
The health and longevity of your ductless heat pump shouldn't be compromised with a rushed installation, and we're sure you'll agree that taking a few extra days is worth the potential for additional years with your system. Better yet, because of our expertise and adherence to the best practices installation method, Island Ductless Heat Pumps is a preferred Elite Diamond Contractor with Mitsubishi, which ensures our residential installations come with a 12-year Manufacturers Parts Warranty ... and our 100% Lifetime Workmanship Guarantee. Please contact IDHP with any further questions or to discuss moving forward with your ductless heat pump installation.