Hydronic Radiant Floor Heat versus
Island Ductless -
December 12, 2022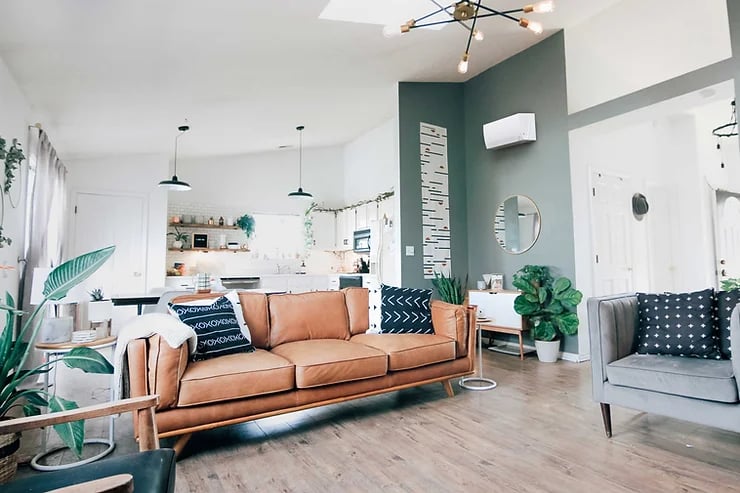 How does hydronic radiant floor heating stack up against mini-split systems?
Hydronic radiant heating is an energy-efficient way to warm homes from beneath flooring, wherein heat rises and adds comfort to the above indoor space. During this process, a boiler pumps hot water through installed underground tubing (loops of plastic piping laid in a pattern under the floor). This can be more energy efficient than other forms of heating, especially if the home is using a heat pump to create the hot water. In most homes, fossil fuel is being burned to heat the water in the system. In contrast, ductless mini-split heat pumps don't create heat, they move it. During winter an outdoor unit absorbs warmth from surrounding air and transfers it indoors versus summer where heat is transitioned outside by expanding and compressing refrigerant. Both methods provide comfortable heat. So, which one should you choose?
Hydronic radiant heating: Pros
With the ability to offer consistent, evenly distributed warmth, hydronic radiant heat is highly efficient, especially if properly installed. Thermostats in each room can accommodate individual temperature preferences while lowering heating costs and maintaining toasty flooring. With nearly silent operations, these systems quietly heat indoor spaces evenly and without blowing dust or allergens around the home. And if the boiler isn't electric, they can even operate during power outages.People love the warm floors in their homes.
Hydronic radiant heating: Cons
Hydronic radiant systems are considered luxurious and carry an expensive price tag due to their invasive plumbing and installation requirements, as well as potential repair costs (should a leak develop beneath flooring). They don't have the ability to combine with air conditioning methods, which means you will need two separate systems. And while efficient, it can often take quite some time for a room to heat adequately regarding the process of heating water, sub-floor distribution, and rising heat. In addition, most radiant floor systems burn fossil fuel to create the heat. Boilers typically need to be replaced after about 10 years.
Ductless mini-split heat pumps: Pros 
Ductless systems are extremely versatile and non-invasive to install both in new construction and already existing homes. They require zero plumbing, ductwork, or floor demolition and can easily be added to rooms, additions, or home conversions. With the power to heat indoor spaces efficiently and with minimal energy usage, ductless systems are hailed for their ability to offer heating and cooling in one unit, reduce utility costs, and offer whisper quiet operations. They also have the incredible ability to filter and dehumidify indoor air. Newer systems even offer the feature of naturally decreased heat when an empty room is sensed and Wi-Fi to control temperature settings remotely.
Ductless mini-split heat pumps: Cons
Although ductless heat pumps are less expensive to install than hydronic radiant heating, they too can have larger upfront costs. Power outages can affect operation without a backup generator or solar connection, and although they are whisper quiet, higher fan speeds can cause increased sound. Lastly, despite low profile flush ceiling cassettes being available, some homeowners do not prefer the aesthetics of indoor wall mount units.
Our story
In 2005, IDHP's founder David Gray decided to install hot water radiant floor heat into his new custom home. Although certain areas felt comfortable, spaces with high ceilings weren't heating adequately and the heating bill was exorbitant. Thankfully, David later learned about the wonders of air-sourced ductless heat pumps, converted his entire home to a zoned ductless system, created IDHP, and the rest is history. 
In closing
Ductless heat pumps are superior, offering far more benefits than hydronic radiant heating. IDHP has converted numerous radiant floor homes to ductless systems over the years, as radiant heat buyers struggle with leaks, expensive repairs, boiler replacement, cold weather limitations, inadequate heating, and the inability to provide cooling. At IDHP, we're proud to install mini-split systems and keep PNW residents comfortable in their homes. To learn more about ductless heat pumps or to receive a complimentary estimate, contact us today.